THE 'WE ARE SEVEN' CYCLING CLUB
As the doings of this aptly, though curiously named 'Club' figure pretty prominently in the following pages, it goes without saying that it shall have an introduction of some kind.  The name, to begin with, is wrong, for the occasions when the 'We Are Seven' are few and far between; the usual turn-out being four to six, although it has been one to nine.  Again, to speak in the legal sense, we are not a Club, but a party of cyclists who, through a similarity of ideas, and a happy blend of humour have been drawn together from the ranks of the greatest of all clubs, the CTC.  Our title which was happily and accidentally given on an occasion when we were seven, caught on, so to speak, and now it adorns the visitors book in many places as far apart as Devon and Scotland, Wales and Yorkshire, Northumberland and Warwick and the Lakes and Derbyshire.
The regular 'Severners' are five, the others being just 'occasionals', so I think it would be best if I introduced the five, bringing each one in as I met them.
It was during my first year with the CTC (1923), when two of us were touring at Easter in Wales, that I first met Tom.  Although I had been a bicycle rider for many years, this was only my second tour, and I was only just awakening to the real delights of cycling.  My bicycle was an old crock of a roadster, converted by means of dropped handlebars and fixed cog to something approaching the lightweight stage, my companions was, if that was possible, even more of a crock, and as tourists, both of us were in the chrysalis stage.  But we were full of enthusiasm, and that is a thing that will overcome many natural and mechanical barriers.  It had rained nearly all of the preceding two days, and the more it rained, the more enjoyable it became; which goes to prove that already we had found the cyclists' spirit.  On the second night we got a particularly adventurous dose of mountain mist and rain on a road beneath Snowdon that none of us knew, a road that was all uphill and narrow with a wall at one side that seemed to overlook precipitous slopes, and a hillside on the other, chock full of boulders and looming cliffs, whilst now and then the road would bridge some rocky gully at the bottom of which some swollen torrent would roar.  But eventually we got down to Bettws-y-Coed, and stopped at a place that I know of.  And therein was Tom, a lone cyclist from Manchester, and a CTC ite.  The badge was our introduction; Tom joined us, taking our photographs and promising to send us some prints.  At Chester my companion left for home, and as Tom and I had an extra day, we pottered off to Whitchurch.  The next days run, home through the Cheshire lanes, sealed our friendship, we started to meet now and then, until it became every weekend.
It was the famous Meriden Memorial weekend, May, 1924, when on the customary rush home, Tom and I fell in with two merry, hard-riding Hindley cyclists, and rode with them for many a mile, forming an attachment that, found that day, was lost, picked up again, and continued until we became the We Are Seven CC.  Of which more anon.
For over two years Tom and I rode together, almost solely together, gradually widening our cycling activities, and varying them.  Every Sunday would see us exploring the labyrinth of Cheshire bylanes or the Derbyshire Dales, the north and east or making ambitious forays into Wales, every Sunday we became more and more enthusiastic; cycling gradually captured us entirely, making us worshippers of the Open Road and un-swerving devotees of cycling and the lightweight machine.
Then, in the winter of 1924/5 I met Joe at night school.  Joe was wild and untamed as a cyclist.  His first ride with me was an evening spin near home, and as far as speed was concerned, 'he put it across me'.  The next was a Saturday afternoon ride in Cheshire.  Again he left me far behind.  Then he came on a Sunday run.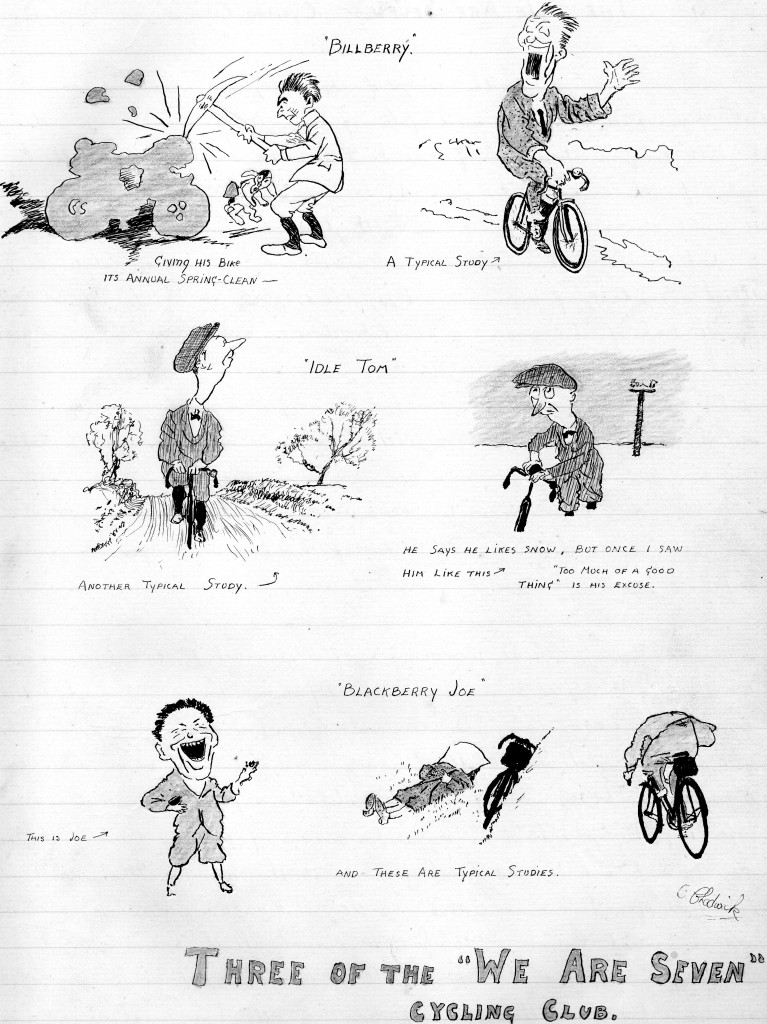 We had to meet Tom at Rowsley Bridge near Bakewell at 11am.  It was a scorching day in May – or was it June?, 1925; Joe started at his usual 'evens' but I, who was getting wise to him, let him go, and pottered at my own sweet pace.  Before we met Tom, Joe was feeling the ride, and before the afternoon was out, he was 'conked'.  But he came out again and again, and gradually discovered the wisdom of steady riding – or at least he improved a lot, though even yet he is noted for blinding and then going to sleep by the wayside.
Quite accidentally I fell in with Fred at a Cheshire tea place, and invited him to join my club run on the following Sunday.  He did so, then, with his pal Billy, joined the CTC.  I saw Fred now and then on a Club run, but it was not until the club went through the Allied Press works at Manchester in February, 1926, when Billy, Tom and Joe and I met each other, that we arranged anything between us.  We five merged together as a company concern, joined by two others from Hindley, Walter, Fred's brother, and Norman.  For some weeks we all seven rode together, until the latter two became interested in the other sex, with the usual result.  So we were the original five, and I think that we shall ever remain 'We Are Five'.  I hope so.  That is the story of the foundation of the merriest, breeziest, most enthusiastic troupe of cyclists extant, the 'We Are Seven' Cycling Club.
We have our own individual characteristics, of course, but the whole blend together in a way too rarely found in five different persons from three different towns.  To outline each would, of course, be a tedious and somewhat uninteresting thing to the reader, but I propose to survey the main peculiarities and leave the reader to find the rest out in the following pages.
Tom, like us all, is a philosopher so far as weather and trouble are concerned.  The motto 'let it rain' goes with the optimistic though oft discouraged 'It ain't goin' to rain no more', and many a time he has 'gone through with it' under weather conditions for hours on end, that would scare off any but the hardiest in a few minutes.  He calls himself a potterer, but you should hear what we sometimes call him !
Unconsciously enough, he once said that he goes fast downhill and doesn't go slow up them !  Bylanes are his favourite roads, and his pet abhorations are caves and rocky mountains.  Tom is a super-tourist, and can claim about 4 tours and 20 weekend jaunts in 1926.
"Give it to Joe!", was the catch-phrase made famous when Bolton Wanderers were in Cup winning mood in 1925; the phrase may be applied equally well to our Joe.  For garrulous, gastronomical reasons, Joe received the title 'Blackberry Joe' a long time ago, and the nickname has stuck to him ever since.  As for riding, a main road where he can blind and a grassy border where he can sleep constitute the idyllic.  His feeding is the wonder of us all – where does he put it ?  Once he was told by a feminine admirer that so far as looks are concerned, the rest of us haven't a look in, and ever since he has not allowed us to forget it !  Though the lass who told him that had probably not seen me (?), there is no doubt that he exercises some influence on them, for his love affairs are many and abrupt, and his 'googly' eyes always receive an answer.  Joe shares Tom's dislike of the rocks above and below the surface.
In 'Billberry' from Hindley near Wigan, you have a volume of character, most of it being beneath the surface.  The first impression one gains of him is that he is the cyclist all over, merry, healthy and strong.  He possess the infectious, irresistible laugh, he rarely gets ruffled, has the bluff Lancashire trait of being outspoken – and one cannot take exception to him, he is so frank.  Of course he is a great feeder, and a great rider too, though with Tom, he avows his attachment to a gentle potter (I've seen 'em).  Bill is a leader.  Only him would have dared to climb the waterfall in Alum Pot first, under the impression that it had never been climbed before, and only he could have led the rest so well in the intricacies of the subterranean river course.  He tackles at once barriers that others would think twice before doing, and makes the way easy for those who follow.  He is a great thinker, too, is Billy; the appeals of Nature stir him to thoughts that are genius.
      If you notice a quiet, inoffensive lad with us, that is Fred, and beware of him.  To him, the manoeuvring of words is a fine art brought about mostly at my expense.  At one moment he is suspiciously quiet, the next he seizes on a remark you may have made, and literally tears it to shreds, turning it into a joke at your expense.  His practical jokes are roaringly funny except for the victim.  Fred, in short provides two thirds of the humour on our runs, and if absent is perhaps the most missed of all of us.  I have never seen him in anything but a good temper, and he never tires, being probably the best rider among us.  Side pursuits of his are shooting, angling and nature study, whilst he likes rock climbing and cave-work.
For my part I am in a false position.  They call me Lord High Feeder or Glutton, but in reality I possess a lady-like appetite, and have ridden enormous distances on practically nothing.  Of course they have to have someone to pull to pieces, and I suppose I am most fitted for their ridicule.  If, for instance, I have a mild flirtation, they at once accuse me of being a heartless lady-killer, urge me to 'do the right thing' (whatever that may be !), and chip me unmercifully.  On the other hand, Joe, who is noted for it, gets off scot free.  My main aversion is the main road, and my best rides are always in the lanes or on rough tracks, whilst, except for cycling I can think of nothing better than underground exploration and mountain climbing.
So with that I will give over trying to explain what the 'We Are Seven' CC is, and, for fear of future trouble, I'll not give any more characters, but leave it all to the tours and runs I hope to sketch in this book.
November 4, 1926