Several members were at Four Lane Ends at 9am today, when I rolled up.  At 9.20 there were 15 of us, quite a good number for the 'potterers'.  Salford road took us to Walkden, then along to Barton, Stretford and the main road to Altrincham.  I was not sorry when Mere Corner hove in view, and we joined Knutsford road.  Just by Tatton Mere, a bylane, rough but preferable to any main road, took us to Knutsford, and running through the ancient part, joined Chelford road.  I had some trouble here, in keeping all of them together, for I had no one who knew my route, to deputise, for, in the next four miles, there is much changing of roads.  Right into a sticky lane, then left on the Holmes Chapel road, right again for Peover, and left again at Lower Peover.  Some were already enquiring about lunch, and I had to keep saying "another mile"!  Seven miles later, Byley (and lunch) was reached.  After lunch, a lounge about, our photo's were taken, and then, the road again.  A short two miles, and we entered Middlewich, and after threading its narrow streets, we joined the Nantwich road.  Five miles later, at Minshull Vernon, we stopped for a few minutes.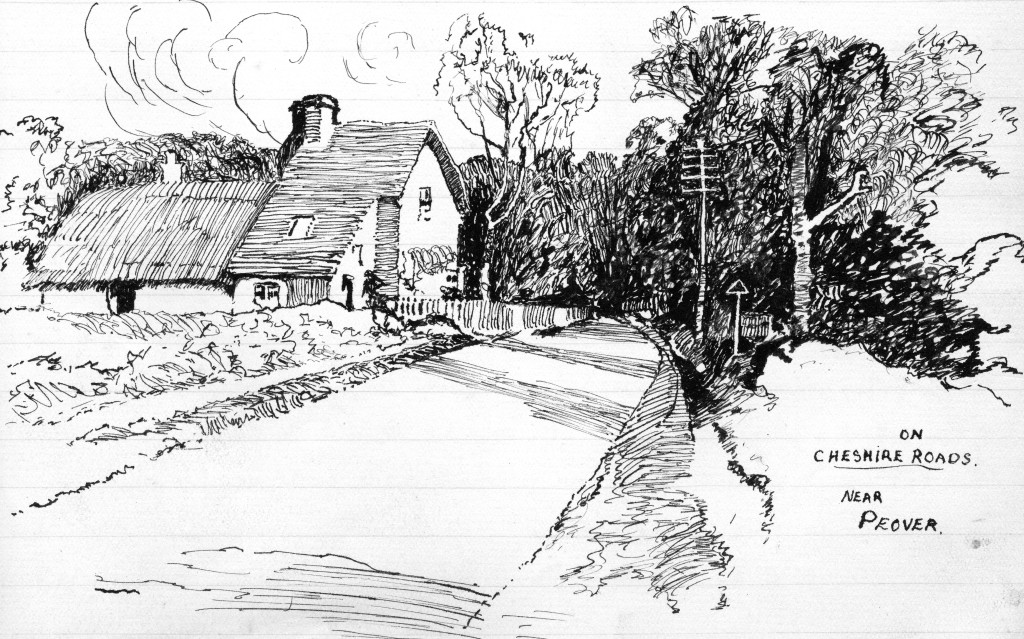 This is really a beautiful, colourful little village, the half-timbered buildings being harmoniously irregular!  Then a hilly byway, along which we stopped many times to pick some remarkably large and juicy blackberries.  At Over, it got tame, scenically, and we quickened a little to get this part (O)ver.  One would associate such a romantic sounding name as Over with some quaint, rural beauty, but if it ever possessed that quality, it must have been long dispersed.  Incorporated with Winsford, it makes that particular part of the Weaver Valley a dirty, black splash on an otherwise charming landscape.
When in the chrysalis stage of my cycling career, I ventured round Beeston, I was struck by the name Over on a signpost, and my curiosity aroused, I could not be satisfied until I had been to Over.  When I got there I was speedily disillusioned, I dare not think what may happen if industrialism ever gets its hold on, say, Beeston and the Peckforton Hills, or Vale Royal, or Arley, or Gt. Budworth (and that place is dangerously near that other blotch, Northwich).  Anyway, beyond Over it improved, and very soon we came to Whitegate in Vale Royal.
The infinite beauties of this little vale, the oft quoted, old world homesteads, a placid shady lake, go to make a perfect picture.  A little further on, one of our party sustained a serious tyre burst, which took an hour to repair, and consequently caused us to make straight for tea.  Mrs Wade was prepared for us, and gave us a right hearty meal, such as to satisfy the most critical, both in variety and price.  I suspect that this has gained Mrs Wade several new 'customers'!  A walk round the garden which, just now, is at its best, delighted all and sundry, and many were the bunches of flowers that she made up.  I saw all out first, then, wheeling out my machine, found it punctured, rear tyre!  By the time it was repaired all had gone, except Tom, who is never far away when there is any bike trouble, though it is never his cycle, always mine!  Anyway, we got away at last, and soon gained the main road at Acton Bridge.  We preferred the bylanes to the main road, and went by way of Little Leigh, Comberbach and Budworth to High Legh.  Between Broom Edge and Heatley we parted company, I crossing Warburton Bridge, and returning home via Chat Moss, Glazebury and Butt's Bridge to Atherton, arriving home 10pm.  It has been a grand day, and I think I have knocked a good run out of a moderate district, for, although very pleasant, there is a lot of 'sameness' in this part, and nothing wearies the Club more.       18 members attended the run.                                                                              90 miles