We are having a different take today on Charlie's records, because as some of you know, Charlie and his pal Tom Idle were great photographers, probably with a Kodak Brownie, or some other make of popular camera that could be acquired for little outlay !
This page in his photo album, like all the other pages which I intend to cover, shows lots of cyclists but almost no names, so I will do my best to help you, because I have to guess as well.
This one above claims to be a picture of the We.R.7, although one can only count six, because there is someone having to take the picture, we have no names to put to any face.  However I can be certain that the gent at lower left with the CTC badge is Charlie and I am hazarding a guess that the second in from the right clasping a cigarette could be Blackberry Joe.
We have just the one shot of Blackberry Joe, on the Cold Door Pass, with a pithy comment by Charlie.   Blackberry Joe….  'Like an overgrown and somewhat clumsy chorus girl'.  So that's settled then !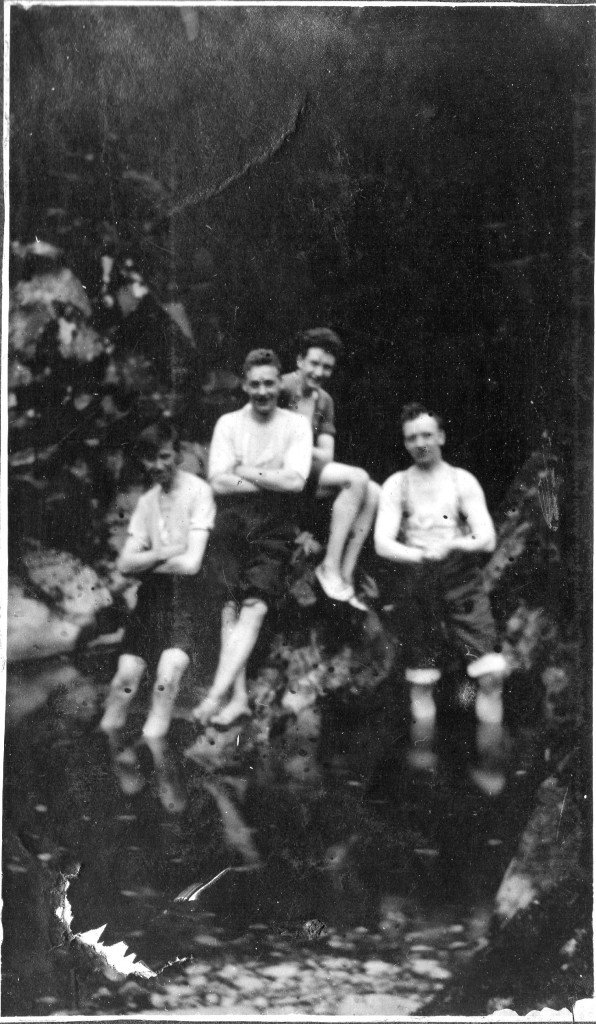 The Photo at the waterfall above, is most certainly Charlie centre stage, and I feel the guy behind him is Blackberry Joe, and the picture is captioned as being taken at Cynwyd Waterfall.   I am also fairly certain the guy next to Charlie at extreme left is Tom Idle.
The picture below was taken near Llwyngwryl, seemingly, and the next picture further below  was taken at Pentre Voelas on the Bettws-Corwen road, taking a drink from the vi
llage tap, often near horse troughs.  Did I just hear 'What is a horse trough?'
And finally either drinking or washing, who knows, 'Near Llwyngwryl'
The actual story of this Easter Tour can be found in Book Four of Charlie's cycling diaries on Page 59.